FAST FISH AND A FULL PLATE
JORDAN LEE (IM 2014) is up to the challenge. The Fast Fish Challenge, that is. As a volunteer this summer at the Academy of Arts and Sciences in Golden Gate Park, he's been working at the tide pool, presenting some of the collections and helping visitors learn about how the specialized traits of fish are vital to their different living environments. The Fast Fish Challenge is part of the new Built for Speed exhibit about the boats of the America's Cup and fish adaptations provided, often with very interesting results: "fictitious fast fish...with fanciful fins..."
Equally challenging are Jordan's other summer projects: a recital with a brass quintet at the Bronstein Music School, a second recital with his private trumpet teacher, Stephen Bell, and his job at the Silver Dragon Kung Fu School.
At the Silver Dragon, Jordan helps out with the summer camp and teaches the Lion Dance, a form of traditional dance in Chinese and Indonesian cultures, taught in most martial arts schools. Frequently mistaken for the Dragon Dance, in this dance, the lion is operated by one person who mimics a lion;s movements. The performers are inside of the lion and their faces are covered. (In a Dragon Dance, the the dragon is held up on poles and the performers are fully visible.)
"Shaolin Soccer is one of Jordan's favorite films and he lives with a dog that has super powers. Send Jordan a shout out: today is his birthday. Pictured here with Jet.
IN THE CITY, BY THE SEA, ON THE BAYOU
JP VIERNES (DANCE 2014) has choreographed an exciting and busy summer.
During the majority of his time in the Bay Area, he will be dancing with The Shely Pack Dancers, a local studio in Half Moon Bay led by dance educator, Shely Pack, who began her dance training in Pennsylvania with the Pittsburgh Ballet Theater more than 40 years ago. JP also plans to take classes at Lines Ballet and ODC in San Francisco until he leaves for New Orleans and the Dance Masters of America competition.
Dance Masters of America is a membership organization of artists and educators committed to the elevation of the art of dance worldwide. DMA sponsors a variety of competitions and awards more than six-hundred educational and monetary scholarships annually.
As serious as he is about his art discipline, he is also deeply committed to his friends, his family and to having fun. Which is what he plans to do when he leaves Louisiana for Washington D.C. to visit his sister, a middle school geography teacher and her husband, a physicist working in the nation's capital.
COMIC-CON AND CAPOEIRA
GIORGIA PECKMAN (CW 2014) has been counting down the days. In May, she concentrated on the date for her return to her second year as an intern with Diablo Custom Publishing in Walnut Creek, where her responsibilities have included writing, editing, and doing research for various clients and publications.
In June, the focus shifted and the calendar countdown was all about Comic-Con, a multi-genre international convention held annually in San Diego, showcasing comic books, science fiction and fantasy film and television, and related popular arts. According to Forbes, the convention is the "largest convention of its kind in the world."
Giorgia designs, researches, sews and wears her own unique costumes, inspired by characters from Dr. Who, Supernatural and Game of Thrones. She has received local and international media coverage at the conventions for her artistry and craftsmanship.
Finally, July has ended and the excitement is building, as she ticks off the remaining days until her departure for Brazil and the Jogos Mundiais.
Apart from her time during the summers at Diablo and her time at SOTA during the school year, Giorgia practically lives at ABADÁ Capoeira, an internationally recognized capoeira school located in San Francisco's Mission District where she has been a student for almost 10 years.
This year, Giorgia is one of three teens to receive a full ticket scholarship from ABADÁ Capoeira San Francisco to travel to Rio de Janeiro for a series of workshops and competitions for ABADÁ capoeiristas from all over the world.
In preparation, she has been training regularly, practicing her Portuguese, performing with ABADÁ at street festivals and the Pride Parade - for which they were nominated Most Fabulous Street Performance– and helping out at the studio with the kids' summer camp. When she's not at her capoeira studio, Giorgia is working on the beginnings of her Creative Writing senior thesis and hanging out with Face aka Hazel, her beloved cat.
Pictured here in full femme 11th Dr. regalia on the Game of Thrones throne at Comic Con 2013.
THE SPICE OF LIFE
DANIEL SUKI (IM 2016) is all about variety, in body and soul. Born in Wisconsin of Japanese, Filipino and Puerto Rican descent, and raised in San Francisco, Daniel is a student in the World Music strand of the Instrumental Music department.
He entered the program proficient in guitar, piano, violin, bass, ukulele, drums, and voice. This past year, under the direction of Monina Sen Cervone, he successfully navigated Japanese Taiko, Brazilian Samba and Afro-Cuban drumming.
The response from both performers and audiences to this new piece of the Instrumental Music department puzzle has been overwhelmingly positive; proof that a strict classical or rarified background is not a requirement for acceptance to SOTA or the ability to excel in the artistic community at the Ruth Asawa San Francisco School of the Arts.
Three World Music performance dates have been set in the 2013-2014 SOTA performance calendar, not including any surprises that director Cervone may have in store for the World Music students. There has also been talk of a show in Los Angeles later this year and possibly Japan in Daniel's senior year. Until then, Daniel continues to add flavor to the eclectic mixture of his life.
This summer, he's been recording his first album with percussionist Jerry Herrera (IM 2016) with whom he's been gigging at Cafe du Nord on Upper Market Street and various school events and a date at Bimbo's is slated for the near future. Add acting in three films, screenwriting two of them, pitching for an all star baseball team, visiting family in the Midwest and on the East Coast, preparing for another club appearance and tickets to a Dave Matthews concert, and all of it spells Suki.
Photo by Roger Jones
SUMMERTIME!
SUMMER CUYJET (MUSICAL THEATER 2014) is a force of nature, full of curiosity, compassion, and boundless energy. In the past few years, her attendance at several home and hospital births inspired her to pursue an internship at Kaiser this summer where she is spending 4-5 days a week between their clinic, their Neonatal Intensive Care Unit, and Labor and Delivery. The internship puts her into regular contact with Registered Nurses, Nurse Practitioners, and Physicians, learning about the miracles of life.
To feed her musical theater habit, Summer will be participating in an audition class at ACT and a class on directing for the theatre. She will also have a chance to dust off her tap shoes when she heads east to a two week Musical Theater Intensive at Rider University in New Jersey, where she will be performing in two shows- one of which is 42nd Street, which she loved performing in last spring at SOTA.
She is also making time to volunteer at the SF Food Bank twice a week and was shocked to learn that 1 in 4 San Franciscans eat food supplied by the SF Food Bank each day. Whatever free time is left in her schedule will be spent narrowing down her list of colleges and writing her personal statement. Oh, and maybe a bit of Law and Order SVU, her favorite television show.
Quite a Summer!
SINGING, STRUMMING, STANDING UP FOR A CAUSE
JULIAN CUYJET (Vocal 2017) has a lucky number this summer– 13. That's the title of the rock musical he is currently rehearsing at the Spindrift School for the Performing Arts in their 4 week musical theater summer intensive for teens. A grown-up story about growing up, "13" is a "…high-energy musical…about discovering that cool is where you find it, and sometimes where you least expect it."
On August 4th, once the final curtain drops on "13", Julian will be jumping from Pacifica to Page Street, For a solid week, he will participate in the Chanticleer Choral Skills Lab at the Kanbar Center, a workshop designed for singers aged 14-20 to hone their skills. Students take classes in sight-singing, music theory, music history, conducting, solo voice technique, IPA and diction, and the art of the audition; culminating with a student performance of challenging choral music. In addition, he plans to continue his piano and ukelele classes.
A fierce community activist, Julian's parting solo from his K-8 middle school was his appearance last week at a local school board meeting, where he spoke out in support of the continued inclusion of children with Special Needs at his alma mater.
STONEHENGE AND SHAKESPEARE & CO.
AMINA AINEB (CW 2017), is reading, writing, drawing and dreaming, Recently returned from a whirlwind tour of France and England and a visit to Washington DC and Gettysburg, she is happy to simply enjoy the rest of her summer holiday.
Amina is "looking forward to the general SOTA and CW environment…but of course, I'm mostly looking forward to reading and writing with my peers." Until that happens, Amina is tackling the summer reading assignments for Honors English and Creative Writing, but she's not stopping there. She's got her eye on the Quran, Haruki Murakami and maybe some Stephen King.
What was it about Stonehenge that made it one of the high points of her trip? The mythology, the mystery of its origins, the eerie atmosphere.
Less mysterious, but equally captivating was Shakespeare and Company, the bookstore on Paris' Left Bank, an infamous gathering place for writers in the 1920s. Amina paid homage to the spirits of Ezra Pound, Gertrude Stein and Ernest Hemingway while marveling at the typewriter and chair where James Joyce birthed sections of "Ulysses". The perfect tourist stop for this aspiring C-Dub, which is how Heather Woodward, Creative Writing chair, affectionately refers to her young charges.
A typical American teenager in Paris? Hardly.
An incoming SOTA student? Clearly.
Pictured here: Portrait of the Artist as a Young Woman. With Max.
ON THE RHINE
MAYA (CW 2015) & JULIAN (THEATRE 2015) LITAUER lost their luggage and found the Hohe Strasse. After a shopping spree for new essentials, courtesy of the airlines, they commenced with the more serious business of enjoying their holiday, visiting family and touring castles in Cologne, Germany.
Maya likes riding the streetcars, grabbing snippets of conversation she overhears to use as inspiration for her writing. Julian is taking some dance classes, in anticipation of his summer session in Theatre Arts at CSSSA later this summer.
Wunderbar! Bis Bald!
THROUGH THE SOUTHWEST, IN THE REDWOODS & ALL THAT JAZZ
HANNE WILLIAMS-BARON (IM 2015) is a very colorful trombonist. Since summer break started she's been hanging out, having adventures with her pals, redoing her bedroom and exploring new music. This week, a wedding will take her on a road trip through the vibrant reds and ochers of the Grand Canyon to the more subtle tones of the Arizona desert, with a stop at the University of Arizona to check out their brass program. Then its back to the city for a day of repose and packing a bag for 2 weeks in Cazadero.
After her time in Western Sonoma county, Hanne is headed back to the Bay Area, switching from the quiet cool of the creeks, rivers and redwoods to the bright tones of Girls Jazz Camp in Berkeley in preparation for SFJazz auditions in August.
Literally and figuratively, a veritable rainbow.
CITY, ISLAND, OCEAN
NOAH WANG (Dance 2016) has no problem with flexibility, feeling just as much at home in the rigorous three week dance intensive at the San Francisco Ballet as he did in classes at ODC; both of which he participated in, earlier this summer.
Noah is currently taking a break in Hawaii with his family before he heads off to an entirely different environment in the rocky vistas of Malibu, where he will spend 26 days at a sleep-away camp, immersed in swimming, archery, rock climbing, and other team building activities. When he returns, he plans to resume classes at ODC in preparation for his sophomore year at SOTA. Noah's principal goals: "to maintain my flexibility and strength, increase my ability to concentrate, and to be aware of my corrections and positions."
A hui hou, Noah!
STRINGS, SPROUTS, AND SCIENCE
BRIGITTE WANG (IM 2014) feels with her ears, learns with her nose, and sees with her hands. As a violinist, she listens to her instrument, pulls her bow across the strings to produce beautiful sounds. As a gardener in her internships at Summer Sprouts, she pokes seeds into soil, surrounded by the rich aromas of agriculture, harvest and sustenance., gaining a deeper sense of how plants and people grow. As a comic artist and enthusiast, she turns thoughts and experiences- both real and imaginary- into drawings that tell a story. As a volunteer this summer at one of the labs at UCSF, she will be doing histology work, learning about the microscopic anatomy of cells and tissues of plants and animals.
Brigette is interested in the interconnectedness of things and worlds within worlds. She wants to be a scientist; more specifically, a neuroscientist. Traditionally recognized as a branch of biology, neuroscience is now considered an interdisciplinary science that relies on a blend of chemistry, computer science, engineering, linguistics, mathematics, medicine, and allied disciplines, philosophy, physics, psychology, and more.
So, a comic book artist gardener violinist in a white lab coat isn't really that far-fetched!
SCHOLAR SOUNDS OFF
SAYRE QUEVEDO (CW 2011) can't keep quiet– which is a very good thing.
During his junior year with Heather Woodward in the SOTA Creative Writing department, Sayre blended poetry with politics as an intern at YOUTH RADIO in Oakland, a non-profit youth-driven media organization. Since graduation, he has continued with his involvement there.
As Production Assistant, he helps manage the Youth Radio Juvenile Desk, which looks at young people and the criminal justice system. He has produced radio and print pieces for National Public Radio, The Huffington Post, Marketplace, and KQED.
He attended and covered the 2012 Democratic National Convention in Charlotte, North Carolina and has traveled to Chicago, New Mexico, and New York in pursuit of opinions, facts and truth.
This Fall, Sayre received a NEW VOICES scholarship, awarded to emerging minority radio producers to attend the THIRD COAST INTERNATIONAL AUDIO FESTIVAL. A co-host of the DIGITAL WAVES NEW MEDIA FESTIVAL at WNYC, he won 2nd place in the Multi-Media Slam for a piece of reporting for National Public Radio: "Would-Be Accountant Takes to Streets to Find Work." His piece for KALW: "Making Sense of California Youth Sentencing Laws." earned him a spot as a finalist in this year's Media For A Just Society Awards.
Recently accepted to The New School -- Eugene Lang College of Liberal Arts in New York as a Fellow with GLOBAL CITIZEN YEAR. he will spend his freshman year of college in Ecuador living with a host family and apprenticing in the field of education, agriculture, environment, or public health. His current SUMMER CAMPAIGN, a short intensive challenge designed to hone leadership and community-building skills, is an awareness and fundraising effort to raise $2,500 toward Global Citizen Year's Scholarship Fund, which helps fund annual travel opportunities for low-income youth.
Sayre believes in "….audio as not only a creative outlet but a tool for change." He's speaking out and people are listening. He also believes in community. Support his challenge by subscribing to his blog and sharing the link.
SOTA IN SAPPORO
BRAD HOGARTH (IM, DIRECTOR OF BAND) and his trumpet will be performing at the Pacific Music Festival, an international educational music festival held in Sapporo, Japan.
Founded in 1990 by Leonard Bernstein, conductor, composer and educator, the "Pacific" in PMF stands for "Peace", embodying Bernstein's passionate wish to contribute to world peace through music. Each year, promising young musicians from around the world are selected through a highly competitive audition process and are invited to bring fresh interpretations to traditional repertoire, transcending national boundaries and languages.
When Brad returns in August, he will head north to participate in "Music in the Vineyards", a Chamber Music Festival celebrating food, wine and music in the Napa Valley, where he will be performing in Stravinsky's "The Soldier's Tale". One of the centerpieces of the 19th season of the festival, this fully-staged version of "The Soldier's Tale", is a special event presented in collaboration with the Napa Valley Museum.
Jumping puddles? Actually, it's a little bigger leap than that.
MODS, MATH, AND MINECRAFT
BEN SIEGEL (IM 2016) is at home in all of his worlds. In his summer job as a Counselor-in-Training at the SF Boys Chorus camp in Healdsburg, he supports the counselors with camp events (like the obstacle course during Camp Olympics) for campers ages 9-13. Ben plays hand bells during the year with the Bells Chorus, which also makes him the obvious choice to help out with the singing and bells chorus training at camp as well.
A voracious reader and a serious musician, Ben completed his reading assignments for Sophomore English before he and his alto saxophone left for Healdsburg. He LOVED "The Alchemist" (Paulo Coehlo) and also read "Homeland" (Cory Doctorow) and "Cryptonomicon" (Neal Stephenson). His summer academic responsibilities fulfilled, he's focused on preparing for fall auditions for the SOTA WInd Ensemble and is practicing daily. Ben loves jazz and '70s funk, so it's anyone's guess what kind of piece he may be preparing for Matt Cmiel and Brad Hogarth.
His non-musical passion is creating "mods" for Minecraft, a type of video game where a player can roam freely through a virtual world and can choose how or when to approach objectives. The creative and building aspects of Minecraft allow players to build constructions in a 3D procedurally generated world. Modifications of the Minecraft code called "mods" add a variety of gameplay changes. Other activities in the game include exploration, gathering resources, crafting, and combat.
According to his father, Gary Siegel "I haven't got a clue what a mod is, but I think it means he designs specific scenarios, equipment and tools to use inside the Minecraft world."
At SOTA, Ben has found his perfect world, a place where his virtual and actual realities can happily co-exist.
Sophomore Ben is also a math whiz and will be taking pre-calculus with the junior class in the fall.
FROM MONACO TO MANHATTAN VIA VALENCIA
THALIA FRY (Media 2010), currently in residency at the California Institute of the Arts BFA program in Experimental Animation, has some very exciting news.
Earlier this summer, the Cal Arts film school hosted an internal competition to select two student filmmakers - an undergraduate and a graduate- to be considered for recognition by the Princess Grace Foundation; a non-profit organization dedicated to identifying and assisting emerging talent in theater, dance, and film by awarding grants in the form of scholarships, apprenticeships, and fellowships.
Thalia was chosen from students across the country as the undergraduate nominee for Cal Arts and has been awarded the 2013 Undergraduate Film Scholarship Charles Evans Film Award.
The Princess Grace Foundation press release describes her as an "independent filmmaker from the San Francisco bay area... In studying her native cultural geography, she brings to life abandoned memories with vibrant textures and soundscapes. Her current project, Gloria. examines the career of a proto-punk artist in the budding San Francisco punk movement in the mid 1970's. Her most recent film, The Rape Of The Lock, premiered at The 2013 Experimental Animation Showcase at The REDCAT Theatre. In The Rape Of The Lock, she explores 1980's feminine culture, as she reconstructs a tale rumored amongst Bay Area hair salons.
In 2012, she helped curate the CALARTS: A 40 Year Evolution screening at the Annecy International Animation Festival and The Platform International Animation Festival with a group of students. She is currently teaching animation at the California State Summer School for the Arts.
In late October, The Princess Grace Foundation will be flying the winners out to New York, where they will meet HRH Prince of Monaco, and H.S.H Princess of Monaco at the Princess Grace Awards Gala.
Brava, Thalia! Better practice your curtsey!
FAR AND NEAR
AIMEE GRUMBACH (Dance 2016) has been living in Istanbul for the past few weeks. Earlier this summer, she sampled cultural slices of Frankfurt, Monte Carlo, Manhattan, Hong Kong, and Chicago. This month, as the start of the new school term draws closer, she will take a quick tour through parts of Italy, France and Russia.
All without ever leaving San Francisco.
Aimee appreciates the changing scenery of her summer, whether its losing herself in the story about a 17th century Italian scholar taken prisoner by the Ottoman Empire (required reading for her sophomore Honors English class this Fall "The White Castle" by Turkish author Orhan Pamuk), taking the summer session at Alonzo King Lines Ballet, or training in classes at the Academy of Ballet.
Alonzo King has been a guest ballet master for dance companies around the globe, leaving his enduring artistic legacy in each place he visits. When he returns to San Francisco, pieces of these artistic collaborations travel with him, infusing his educational and professional programs with a broader world view of his global dance experiences.
The Academy of Ballet in San Francisco offers more traditional dance instruction, with roots in the Italian Renaissance from which the currently performed Italian, French and Russian concert dance evolved. The most widely known ballet style is Ballet Blanc or Late Romantic Ballet, a classical style featuring pointe work and flowing, precise acrobatic movements.
Aimee recognizes and embraces these diverse contributions to her life as a dancer and high school student at the Ruth Asawa San Francisco School of the Arts. Inspired by all types of dance, her favorite styles are modern, contemporary ballet, and modern jazz. She is a big fan of the work of the late great Alvin Ailey, an African-American choreographer and activist and founder of the Alvin Ailey American Dance Theater in New York City. Ailey is credited with popularizing modern dance and revolutionizing African-American participation in 20th century concert dance.
"At the academy we study very classical ballet, which I use to better my technique and bring it into my work at SOTA. At Alonzo King it is "contemporary ballet" which is ballet but bigger arms and torso. At the King summer program they also offered other kinds of dance like modern, partnering, hip hop, afro, and Alonzo King's Lines Ballet repertoire."
This summer, Aimee has been the student and the teacher, sharing her knowledge at a local Dance Camp for children, where she taught the kids ballet, modern and pop.
What goes around comes around. Absolutely.
LOST AND FOUND
EMMA EISLER (CW 2017) spends her days reading and writing and, most recently, backpacking in Alaska for three weeks; hiking Mount Heely, kayaking Prince William Sound, and spending two days lost in the Chugach backcountry.
A fan of realistic fiction, she's been reading a lot of John Green ("Looking for Alaska" and "The Fault in Our Stars", her favorites), "Eleanor and Park" by Rainbow Rowell and also George Orwell's "Animal Farm" for Freshman honors English. Somewhere between reality and her overactive imagination, she has come to the surefire conclusion that "all stories at their core relate to love in one of its many forms." (Not sure about "Animal Farm", though.)
Emma listens to music constantly. Some favorites: Parachute, The Goo Goo Dolls, The Killers, Passenger, Of Monsters and Men, Imagine Dragons, and Coldplay. "My current favorite song is "Forever and Always" by Parachute. I love music… I'm so inspired by the lyrics and all you can convey in a song; both feeling and story. "
Though she isn't that familiar with too many photographers' work, she likes looking at photographs and is very interested to learn more. Emma plans to enjoy the remainder of her summer break the way she generally enjoys life– with a lot of laughing, a lot of reading, and a lot of writing.
As August 19th approaches, Emma eagerly anticipates an experience as described by Thomas Merton in "No Man is an Island": "Art enables us to find ourselves and lose ourselves at the same time."
Excited to be joining the SOTA community, a place which she feels "prioritizes her passions" Emma is looking forward to writing and working with the other CDubs and "getting to know people in other disciplines and through them be exposed to other art forms."
Welcome, Emma.
SPANISH, CITY HALL, AND SURFING
JOSIE WEIDNER (CW 2016) joined Noa Mendoza (CW 2016) in Mexico at the start of the summer break. They visited Noa's family and indulged in the glittering blue ocean, warm weather and delicious tropical fruits of Puerto Escondido. They were especially captivated by the museums of nearby Oaxaca, set in old, castle-like churches.
Early in their stay, they visited one situated in a palatial church with a huge botanical garden in the back, which featured exhibits on the history of the city. "We went once and then again on our last day. The security guards thought we didn't speak Spanish and they kept talking, in Spanish, about how funny we were for coming back a second time!"
Back from Mexico, plans for a trip to upstate New York were derailed, so Josie plunged right into her summer reading assignments and her Saturday job at the Ferry Plaza farmers market, selling vegetables for her very favorite farm, Eatwell.
On an especially memorable Tuesday at San Francisco City Hall, the midwife who'd assisted at the home births of Josie and her two sisters got married to her girlfriend of twenty years. All the children she'd helped bring into the world were present- ranging in age from 8 months to 22 years old. To honor this joyous celebration of life, Josie and her sisters walked down the aisle with bouquets of babies instead of flowers.
In August, Josie plans to spend a week in Point Reyes on a backpacking trip with a summer camp she's attended since she was a child. She is looking forward to some time on the trails, breathing in the costal sea air, and sleeping under the stars.
With one last week of summer break left after her time in Point Reyes, Josie is giving herself a special gift- the jewel in the crown of her summer. "This week is dedicated to something I have always wanted to do…learn how to surf." Josie and her friend Clara have signed up for lessons in Pacifica, surfing four hours a day. They anticipate pro status by the time school starts! In between all these adventures, she's been writing a lot in her notebooks and "of course…lusting after beautiful cowboys."
Kowabunga!
MAKING BOOK
GRAHAM THILLE (Theatre 2008) is "making book" which, according to the urban dictionary, is something you can count on. Eventually, along with his co-conspirators at the newly formed Bay Area Theatre Company (aka BATCO), he will most likely be "making bank"; also something you can probably count on.
At SOTA, Sairus played the Beast in the mainstage production of "Beauty and the Beast", directed by the late Dan Kryston. After graduation, he headed south to UCLA to study acting, but transferred to the School of Drama at Carnegie Mellon University in Pittsburgh the following year.
In Fall 2012, he was accepted to study at NIDA, Australia's National Institute of Dramatic Art in Sydney, New South Wales. NIDA offers training for theatre, film and television, but is best known for its acting course. A dream gig for Sairus, whose list of heroes include: Hugh Jackman, Philip Quast, Russel Crowe, Geoffery Rush, Hugo Weaving, Cate Blanchett, among others.
A review of Sairus' role as Capulet in a CMU production of Romeo and Juliet lauded his vitality and believability and praised his good sense of the character. He went on to implement this sense of character in more than just his onstage performances.
While in school, three of his pieces-"The Secret Life of Trees", "The Reduced Tales of the Brothers Grimm", and "Spare Mom?"- were selected to be performed in the CMU School of Drama yearly theatre festival, Playground.
"The Secret Life of Trees" was one of my favorite pieces that I wrote…and "Spare Mom?"..was my very well received 1-man show about growing up with 2 moms. It is the work that I am most proud of."
Sairus is the book writer at BATCO– the "book" being the textual portion of a musical; the lines that are spoken and not sung. He is currently living in Los Angeles, pursuing his dream to one day walk away from an explosion in an action movie.
Sairus in "Spare Mom", his one-man show, 2013.
SCRAPS AND A SAILBOAT
LARS MAYRAND (IM 2014) is a flutist, but he's really an adventurer. This summer, he's practically been living at The Workshop Residence, a creative space in San Francisco's Dogpatch neighborhood.
June was all about industrial design, visual arts and environmentalism, beginning with an internship assisting Agelio Batle and Family to make new work from unexpected materials. The Recycled Plastic Lamp Workshop culminated in an exciting and beautiful exhibition with many SOTA students having lent a hand to help make it all happen.
Lars has now signed on for a new voyage of discovery as a volunteer on a boat building project with the July Resident at The Workshop Residence, Aaron Turner, a Santa Monica based artist, designer and educator.
Turner is currently teaching Architecture and Urban Design at UCLA and working with architect Frank Gehry on the design of a 72' wooden sailboat.
At the time of this interview, Lars was enthusiastic but brief: "We're making a 17 foot long fully functional sailboat!"
No question whether he's got his sea legs.
THE SIXTH AMENDMENT
GABY MENDOZA (Theatre 2014) is very clear about her goals and desires. She wants to live in New York, in a moderate sized house with a huge dog. She also wants to make a difference in this world. This sense of clarity, focus and determination won Gaby the title of Best San Francisco Mock Trial Defense Attorney for 2013. It also earned her an internship in the San Francisco Public Defenders office.
Led by Jeff Adachi, California's only publicly elected Public Defender, the office provides legal representation to over 25,000 indigent people charged with crimes each year. The Sixth Amendment right to counsel is a fundamental right, essential for a fair trial, and necessitates that the courts appoint lawyers for all indigent defendants, regardless of that defendant's education or intelligence. The function of a public defender is to provide the due process safeguard that the Supreme Court deems necessary for a constitutionally sound criminal justice system.
Of all the interns at the 7th Street office– just a stone's throw from the court building at 850 Bryant– Gaby is one of the few high school students; most of them are in college or law school. Her responsibilities there range from helping lawyers and paralegals with paperwork to watching surveillance videos. She also goes to the courthouse and attends trials, "which is probably my favorite part because I'm seeing real lawyers in action. I wanted to do something that had to do with law this summer because mock trial really boosted my interest in becoming a lawyer..."
In mock trial at SOTA this year. Gaby worked with Cristina Rey (Piano 2014) and Gillian Rude (Media 2015) on the defense team, practicing for many months, at least twice a week. "Our coach Cliff Yin is such a fantastic motivator and he really helps us understand mock trial…its one of the most amazing things thats ever happened to me."
Gaby found her way to the Public Defenders office through San Francisco YouthWorks, a program that matches high school students with paid internships to develop their readiness for work and promote interest in public service careers. Opportunities are available throughout the year.
"This summer is probably the summer I'm really figuring out who I am, in every sense… this is gonna be a good one…"
WANDERING THE WEST
ARLYSS HAYS (Vocal 2016) started the summer with an invigorating session at ODC "which was just an absolute blast."
The two week dance intensive which included contemporary, African, post modern partnering, improv, and choreography, was a great warm-up for hitting the trail with the rest of the Hays family- Annette, Nathan, Harlan and Jeanette- and their pals, Drew Vinson and Sam Cott- on a hundred plus mile fundraiser: "Climb Every Mountain"; hiking and singing along the John Muir Trail, to help send SOTA Vocal to Carnegie Hall in the New Year.
Next stop, Wyoming, with her father and brother, who will be singing in the Grand Teton Music Festival with Donald Runnicles conducting, after which they plan to take the long way home through Utah. With stops in Zion, Flaming Gorge, Moab, Arches, Dead Horse State Park, Goblin Valley, Capital Reef, Anasazi, Bryce Canyon, Lower Calf Creek Falls, and Bodie, lots of swimming is on the agenda.
Her summer adventures notwithstanding, Arlyss is definitely liking "The Naive and the Sentimental Novelist" by Orhan Pamuk. Before school resumes in mid-August, she will wrap up her wandering with a backpacking trip up to Glacier Lakes in Kings Canyon but ultimately "will be glad to go back home…curl up with my 3 dogs on the couch and finish all my books." She's excited to go back to school, see friends and "just be part of the SOTA environment again. Since I haven't been able to sing all summer, I can't wait to go back to the Vocal department and resume training, along with seeing what new opportunities lie ahead in this upcoming school year."
ON THE INTRACOASTAL
KAREN BERMAN (Mathematics faculty) comes from a long line of educators. Her sister is a kindergarten teacher. Her father, with whom she is very close, retired from teaching three years ago after a 50 year teaching career.
At the end of the school year, Ms Berman shuts the door of her classroom, remembering to savor late night suppers and fog in anticipation of her annual summer pilgrimage to the great southeast. For a month each summer, Ms. Berman trades the Golden State for the Sunshine State to spend a month with her parents in Delray Beach, a coastal city in Palm Beach County, Florida.
Once a center for pineapple cultivation, tourism and real estate speculation, Delray Beach experienced a bit of an identity crisis when the land boom in mid-1920s Florida collapsed. No longer the largest town on the east coast of Florida between West Palm Beach and Fort Lauderdale, Delray Beach had to reinvent itself and seems to have done a pretty good job of it.
The Downtown Delray Artists District, the Morikami Museum and Japanese Gardens, and the Spady Museum are just a few of the attractions for visitors to the area. The Old School Square Cultural Arts Center, built on the former site of the now defunct Delray Elementary School and Delray High School, houses the Cornell Museum of Art & American Culture and is listed on the US National Register of Historic Places.
Delray Beach is also the site of the Wakodahatchee Wetlands, a very forward thinking enviromental project; 50 acres of unused utility land transformed into a public wetlands park. Each day, approximately two million gallons of highly treated water are pumped into the Wakodahatchee Wetlands, making it a vital part of the Great Florida Birding Trail. Over 151 species of birds have been spotted inside the park, some of which were close to extinction and are now protected by the Migratory Bird Treaty Act.
Maybe that has something to do with Ms. Berman's comment about Early Bird Dinners at 4:00 pm?
SOTA SMORGASBORD
TAYLOR LEONG (VISUAL 2014), is like a master chef, combining heat, spice, imagination and passion to simmer a paella to utter perfection or artfully coax a soufflé to gently rise. Testing, tasting, a pinch of this, a dash of that; cooking up one idea after another, Taylor produces visual banquets with many courses for all to savor.
This year, Taylor received a gold medal for her comic art submission from the Scholastic Art & Writing National Awards. She is studying Finnish, motivated by her sophomore year history class with Ms. Schlax; fascinated by what she learned about that culture and the Cold War.
Her coursework in APUSH (Advanced Placement United States History) with the incredible Mr. Mironov inspired a creative rendition of US History, a 21 page comic book, "My Country, 'Tis of Thee". She's also been attending a six week summer painting class, 3 days a week for 6 hours a day, at Fort Mason through CCSF. Two nights a week, she's diligently learning to master the Spanish language.
Further evidence of Taylor's commitment to creative growth was presented last weekend at an opening reception at The Workshop Residence, where she and fellow SOTA students NOA BATLE, ELENA DIEBEL, LENA NG, LARS MAYRAND, JENNIFER TERRELL and NATALIE YU interned with Artists-in-Residence Agelio, Delia, Noa and Nilo Batle to produce fantastic light sculptures from upcycled plastic milk jugs. In July some of Taylor's personal work will be on display in the Cornerstone Annual Arts Night, a tradition in place since middle school.
Dubbed the Girl with Many Hats, Taylor enjoys Sherlock Holmes, Dr. Who and Star Trek (both old and new incarnations). She can be found with her sketchbook, drawing at coffee shops, parks, buses, and beaches. A true San Franciscan, she is impervious to fog.
Pictured here with a 20 foot long Dr. Who scarf, knitted by sister, Sydney Rae Leong, Dance, 2016.
SAN MATEO AND SYLVIA PLATH
CRISTINA REY (Piano 2014) lives life like a piano. What you get out of it, depends on how you play it. In early June, she judged the Non-Classical piano competition at the San Mateo County Fair; listening, observing and evaluating a wide variety of performances and music– jazz pieces, show tunes, and original compositions. She also spent two weeks at the Brandeis Hillel Day School, working with kids in grades K-5 reading stories, assisting with arts and crafts, and supervising athletics and playground time.
Guillermo Rey, Cristina's father, is a retired international chess master. During the summer months, he runs a chess camp where students play and analyze games and watch world championship chess games live on the Internet. Cristina helps out with setting up the online streaming, supervising breaks and teaching the youngest kids how to play.
Where does Sylvia Plath come in? Tulips. The poem that Cristina has selected to recite as an exercise for her mock trial coach. Cristina's assignment? "To read a poem to my coach and make him cry…to add another dimension to my presentation in court…The main coach is Clifford Yin, who I have to read to. He's done amazing things for us and the community and works at a big law firm."
Dedicated, upbeat, and accomplished, Bay Area attorney Clifford Yin is exuberant in his support of the SOTA
Mock Trial team, and the intensity and enthusiasm they bring to their scrimmages and competitions. During a brief phone interview from his family vacation in Hawaii last week, he also mentioned that in the many years he has been involved with Mock Trial (having worked with Julie Coghlan even before she joined the Ruth Asawa School of the Arts English faculty), SOTA students are extremely well-suited to the kind of brainpower, energy and passion required for Mock Trial competitions.
Cristina is currently on a trip in the Florida Keys with fellow musician Lina Miler (IM 2014). In August, Cristina will visit Mexico City and Cancun with her own family before classes resume. She will have her AP Literature summer reading assignment tucked into her carry-on as well as the music supplement she's been working on for The Common App.
Like any good chess player, always strategizing for the next move, but completely savoring the current one. Must be in the genes.
BACK TO THE SOURCE
VICKY HUANG (Vocal 2016) is headed to the Tehachapi Mountains this Sunday. A day's drive from San Francisco, at an elevation of almost 4000 feet, she will spend a week at Tools for Peace Summer Teen Camp.
Vicky attended Tools for Peace two years ago as a student, when she participated in Aim High, a program for middle school students in the San Francisco Unified School District. This year she will return as a peer mentor.
Vicky was a classroom volunteer at Aim High, observing how teachers work with kids, and prepare and follow lesson plans. She got to teach a class that focused on issues and choices, the importance of personal values and how students can begin to think about successfully navigating the path from high school to college to a career.
At Tools for Peace, Vicky will spend a week on 475 acres of beautiful forest. Accepting only 30 applicants, the Summer Teen Camp staff is made up of talented professional artists, musicians, athletes, and trained facilitators dedicated to serving teens. and teaching practical methods for cultivating compassion, peace and wellbeing through training in mindfulness and meditation. She'll also have the opportunity to do yoga, go horseback riding, swim and enjoy the more typical summer camp activities.
"The thing that inspired me to go back to Tools for Peace are just how the lessons taught there help so much in life..lessons on the commonality of suffering and how to be compassionate, and its so great to be in a quiet place for a week to just get in touch with yourself when the city is so busy and bustling. i want to be part of that again but also to learn to develop as a leader and be a good role model as well.
In anticipation of the Vocal department January trip to New York and Carnegie Hall she's been practicing a lot and rehearsing with her fundraising group whose repertoire includes both contemporary and classical pieces. Vicky sings alto and doesn't normally listen to classical music but she's been doing a lot more of that for the fundraising and is finding it "very different in a really great way."
She decided to take the opportunity of not having daily homework to indulge in reading novels and poetry - The Perks of Being a Wallflower" and T.S. Eliot, among others– so she's counting on perfecting her annotating skills and completing her summer reading deep in the forest.
PASSION PLAY
KELSEY LAURITANO (VOCAL 2012) is taking Ella Fitzgerald's advice: "The only thing better than singing is more singing."
A native Californian with Japanese, Norwegian, and Italian roots, Kelsey is about to add a little French into the mix. For the next 7 weeks at the Chautauqua Insititute in upstate New York. Kelsey will be preparing for the role of Mother Jeanne in "Dialogues of the Carmelites", a French-language opera by Francis Poulenc. The production will be held in the Chautauqua Amphitheater, which seats over 5,000 people.
In 2011, Kelsey had a life-changing experience at the Oberlin Vocal Academy at the Oberlin Conservatory of Music and discovered her passion for classical repertoire.
As a high school senior, she was named a 2012 U.S. Presidential Scholar in the Arts, a program that recognizes and honors the top 1% of graduating high school seniors in America, on the basis of outstanding scholarship, service, leadership and creativity.
In June 2012, Kelsey spent 10 days in Washington D.C. with the 150 U.S. Presidential Scholars of which 20 were Scholars in the Arts. The visual, literary, and media artists had their work exhibited at the Smithsonian during National Education Week. The performing artists presented a "Salute to the U.S. Presidential Scholars" at the Kennedy Center. Two of the twenty arts scholars selected that year were from SOTA.
That same year, Kelsey won a Silver Award in Classical Voice from the National Foundation for Advancement in the Arts YoungArts program in Miami, placed 2nd in the 2012 Mondavi Young Arts Competition and the Hal Leonard Vocal Competition, and was a finalist in the 2012 Classical Singer Competition in Chicago and the Beach Blanket Babylon Scholarship Competition in San Francisco.
This May, Kelsey won first place in the 2013 Hal Leonard Vocal Competition in the Musical Theatre category (although she is a classical singer!)
In September, she will return to New York City, where she is a sophomore at The Juilliard School, pursuing a Bachelor of Music degree in Vocal Performance.
IT STARTED WITH A SAX
JOSH WORKMAN (IM 1987) picked up a guitar when he was 10 years old. By the time he was 13, his teachers were showing up at his gigs in smoky North Beach bars, always wondering whether or not he'd be too tired to show up for classes the next day.
Josh was a student at Lowell High School with plans to drop out, attend City College and pursue his amplifier repair business, when drummer and composer Eddie Marshall–a leading figure in the evolution of San Francisco's contemporary jazz sound- got him an audition at SOTA on alto saxophone "since they didn't need more guitar players."
"That changed my life…I got into SOTA and finally felt the support that I needed to develop in the arts." Dividing his time between Instrumental Music and Visual Arts, he also developed a keen interest in Physics. Between his classmates– Sam Rockwell, Margaret Cho and Aisha Tyler– and his chief mentors– Eddie Marshall and the Pannones- it was a vibrant time at the School of the Arts, rich with inspiration. While his days were spent at SOTA, his nights and weekends were filled with performances and recording.
Josh spent a year at the Berklee School of Music in Boston and completed his studies at the New School for Jazz and Contemporary Music in New York. These two experiences opened the world of jazz guitar for him; a world which he has lived in for the past 30 years.
At the suggestion of pianist Armen Donelian, Josh began transcribing the music of John Abercrombie for German publisher, Advance Music, which led him to a 5-year stint as the house transcriber for Warner Bros., Hal Leonard and other music publishers. During this time, he recorded and performed with numerous artists, including world music ensemble D'Vash, various offshoots of the Groove Collective, and The Jazz Passengers featuring Deborah Harry from Blondie.
In 1995, Josh returned to the Bay Area and joined the critically acclaimed jump-swing band, Indigo Swing, honing in on the jump-blues and early guitar styles of T-Bone Walker, Charlie Christian, Django Reinhardt and Tiny Grimes. Indigo Swing performed 200-300 dates per year, headlining many prestigious festivals internationally. In Germany, at the Stuttgart Jazz Festival, they shared the stage with legends Rosemary Clooney, Lionel Hampton and vocalist Dee Dee Bridgewater.
In 2004, while touring with the Hot Club of San Francisco, Josh's debut CD "Jumpin' At The Border" was released, Among the talented musicians featured are: pianist and arranger Larry Vuckovich, who has performed with a multitude of jazz greats including Dexter Gordon, Philly Joe Jones and Jon Hendricks; on drums, two former members of Sarah Vaughan's band; Harold Jones, once a member of the Count Basie Orchestra and Omar Clay, who performed with Charles Mingus and worked with Elvin Jones; Grammy-nominee and Tito Puente alumni, John Santos and vocalist Kim Nalley also performs on two tracks.
"Probably the oddest gig I had was touring as Lynda Carter's guitarist for a couple years. She played Wonder Woman on tv in the '70s, I'm continuing to play gigs, do some touring and recording, as well as write music for film, ...I'm currently finishing up a guitar instruction book and a jazz guitar sample library for non-guitarists to use with programs like Garageband. In fact, my guitar playing can be heard in the jazz portion of Garageband itself. Yes, there are many random ways to make a living in the arts if you look hard enough."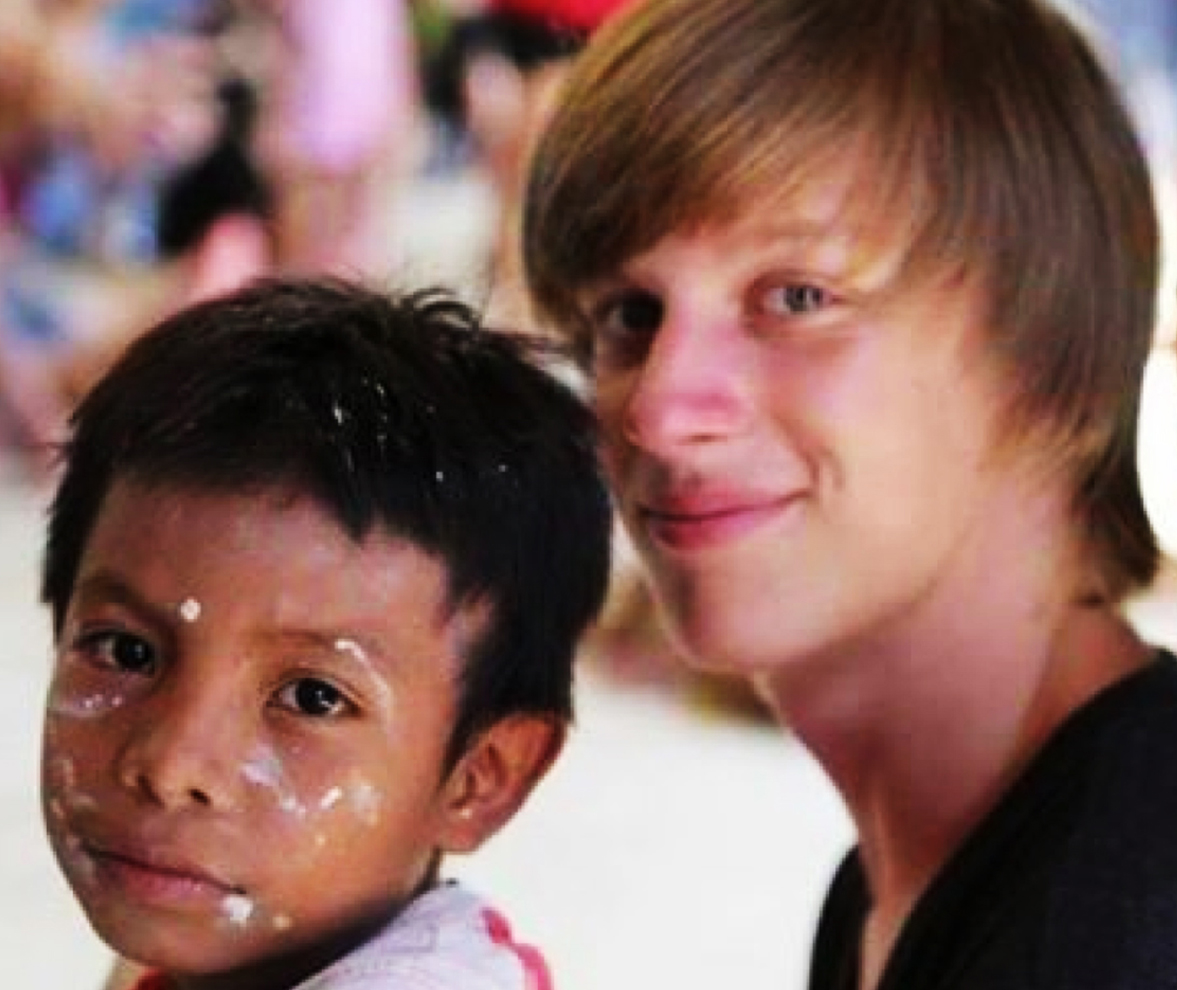 LEAVING THE STATION– WITH A ROUND TRIP TICKET
JAKE STUECKLE (IM 2013) stepped off the stage of the Scottish Rite Masonic Center at this year's Ruth Asawa School of the Arts graduation ceremony and right into the sky. A recipient of the Dan Kryston Memorial Scholarship award, he was surprised and honored, having shared a very special bond with Dan, drumming for him in many of the SOTA musicals.
A joyous celebration to mark endings and beginnings followed, with a performance for over 100 friends and family members by "the English assignment-born, Biology class-raised, folkgrass quartet" Montgomery Station– a quartet with very serendipitous beginnings.
2013 SOTA graduates –Colin Ketchum (Vocal), Robert Lau Giambruno, Nico Scolieri, and Jake Stueckle (IM)– wrote a song for a class project in their junior year and enjoyed the experience and the musical results so much, they decided to continue their songwriting, and added playing around the city to their repertoire as well. Jake plays the drums.
A busking trip to Santa Barbara over spring break sealed the deal for the collective future of the group. Though they will be scattered at different schools around the country this fall for their coming freshman year, they plan to continue writing and recording together and hope to perform over breaks. Montgomery Station released an EP CD earlier this year and expect to release a full length CD in the near future.
In late June, after a family reunion in Washington, Jake set out on his third mission with Big World Ventures; this time to Machu Picchu, almost 8,000 feet above sea level and believed to have been constructed as an estate for an Inca emperor. The majesty of Peru's main tourist attraction is undeniable, but the circumstances of many people there are considerably less than regal. Modern Peru is one of the world's fastest-growing economies, yet more than 30% of its population lives in poverty.
Jake will spend three weeks serving in the poorer communities, spending time with children in orphanages, playing with them daily and bringing new ideas and energy into otherwise tough circumstances. This will be Jake's third year of service with BWV. Previous missions to Ecuador and Panama have been life-changing, providing him with opportunities to experience how the world lives outside of the United States and a chance to put his deep sense of love, charity and generosity of spirit into action.
In the fall, Jake is looking forward to the extensive music course offerings at Whitworth University in Spokane Washington, where he has been awarded a substantial scholarship for Jazz and Classical music studies. Alternately excited and slightly nervous about living and driving in the snow, he's pretty psyched to be taking Snow Boarding as his PE credit.
SOTA EN CENTRO AMERICA
SCOTT EBERHARDT (Media Department Chair and English teacher) and his dynamo wife, RACHEL ZNEROLD (CW Artist-in-Residence, painter, fashion designer, dancer and performance artist) are taking in the sights and sounds of the Amazon. They are on the road in Ecuador, making their base camp in Vilcabamba, home to Rachel's erstwhile sister and frequent performance art partner, Lula Mae, and her videographer husband, Talbot.
Rachel and Lula Mae have appeared together in San Francisco many times at The Yerba Buena Nite Out, SFMoma New Media Lounge, Rickshaw, and Dance Mission, and also in Colorado during Rachel's student residency at the Eldorado Springs Art Center.
Aside from the Central American reunion, Scott and Rachel have their eyes wide open for art markets and adventure. There is also talk of a collaborative video project, which is still being hammered out.
As if their individual and collective plates prior to their departure from California in mid-June, weren't full enough! Scott finished recording drums and vocals for the next album by his band "Slowness" while Rachel successfully produced and installed exhibitions of her work in both the 111 Minna and Public Works galleries.
They were last seen in California in the small town of 29 Palms at the Cactus Compound, Scott hard at work on new content for the media department for the upcoming re-design of the SOTA website, while bikini-clad Rachel put brush to canvas under the hot desert sun. A friend's wedding brought them to the Mojave, where they hope to return for the early winter meteor showers and the Morongo Basin Open Studio Tours.
Pictured here with Mollie Cueva-Dabkoksi, (CW 2013) from their recent rendezvous in Quito, the country's capital.
CITY AND CSSSA
GABRIELLE CHUN (Vocal 2015) is excited, intense and focused about everything she does. Whether its the summer dance intensive at ODC, or the dormitory life that she's looking forward to when she spends a month in the Theatre program at the California State Summer School for the Arts later this summer, she works hard and has fun doing what she loves best.
During the school year, Gabrielle works as a choregrapher and section leader at Inspire Music Center, a music studio on Taraval dedicated to bringing a positive musical experience to kids and adults. Gabrielle rehearses songs with the youth choruses, "Hip Kidz" and "Voices", and creates the dance movements for their performances at Yoshi's.
While she is in Valencia, Gabrielle hopes to take a look at UCLA and a few other schools in the area. She's got East of Eden and Season of the Witch packed already, can't wait to dive into her summer reading, and spend whatever free time she has with family and friends.
1
2
3
4
5
6
7
8
9
10
11
12
13
14
15
16
17
18
19
20
21
22
23
24
25
26
27
28
29
30
31